Many men don't know where to start when it comes to their wardrobe.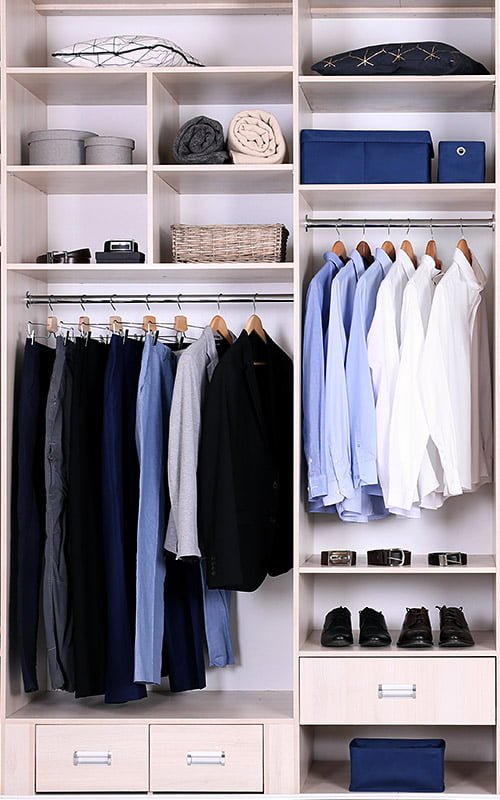 When you have your wardrobe working for you, you will not only create a superior personal style, but you will get time back for yourself.
On average, you wear 20% of your wardrobe, 80% of the time. That's 80% of unnecessary physical and mental noise
We can help you cut the time at your wardrobe, making the process fun, and simple. Getting dressed will be a lot easier and much more enjoyable, once this part of your life is sorted.
Most people find parting with items that no longer serve them, quite difficult. There are emotional attachments to things we own, particularly, clothing.
My clients feel a huge sense of relief and accomplishment after a Wardrobe Detox.  You will feel the benefits of this process long after your service has been completed.
We'll optimize your men's wardrobe so it's functional, efficient, and fun.
An average wardrobe requires a 3 -hour Detox plus a 1- hour style consultation
Some clients may have wardrobes, and agenda's that require more time than this.
This package is based on the average wardrobe space. If you have a larger wardrobe or require more time, we can extend your session on the day.
Wardrobe Detox Package
Remove the physical and emotional clutter from your wardrobe; detox your space; make room for what does work.
Have a functioning  wardrobe that works, making it easy for you to dress
Organize your whole wardrobe, from work to casual attire, including accessories
Discover your true style, and learn how to make it your reality
Reveal wardrobe gaps that prevent you from putting outfits together
Create new looks from the clothes you already have.
Sharpen the style, with my professional tips on how to best fit and flatter your body shape
Discover which colours make your features pop, and the ones to avoid
Stylist's wardrobe gap plan and shopping list
What's included:
Style consultation-  1 hour
Detox- Review, sort, cull, mix, and match – 3 hours
Shopping and wardrobe- fill the gaps
Charity bin drop off if desired
Contact Me Now
Why choose Christina Robért
I was really impressed with Christina and the service and direction she gave me regarding my wardrobe. Hiring a personal stylist was a big first for me. Christina quickly gained my trust and I was surprised how fun the process was.
As a partner in a major international finance organization, I needed to make sure that my image was in check with my career goals.
Christina helped me with the finer points of how to style myself and learning about colours and patterns and why some work and some don't.
I now feel much more confident and in tune with my style
I would recommend Christina as a stylist to anyone in need of some style direction. Great work.
Got someone special in your life who would love their own styling experience? Give them the gift of style with a PERSONAL STYLING GIFT VOUCHER. This is truly the gift that keeps on giving. You can purchase any service on the menu. This is for use within
Purchase Gift Certificates